As part of its rapid growth, the international disputes firm Gaillard Banifatemi Shelbaya Disputes has announced the promotion of André Marini and Anders Junker-Nilsson to counsel, effective January 1, 2022. The promotion of the duo brings the number of counsel at the firm to five.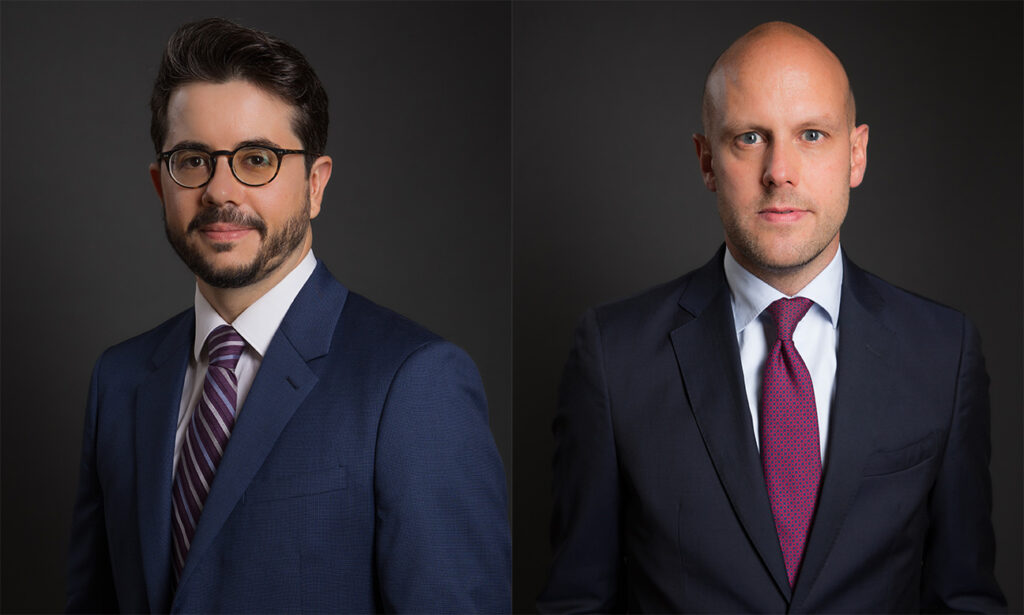 André Marini, a Brazilian and French dual national is qualified in New York, Paris and Brazil and acts in proceedings in English, French, Portuguese and Spanish. He noticeably worked on a number of high-profile disputes relating to Brazil, Angola and Portugal. For instance, he recently helped the Republic of Angola knock out an emergency arbitration and represents Brazilian asset managers and private equity investment companies in multiple proceedings including a 15 billion ICC dispute involving Telecom Italia. André also helped France's Casino retail group gain control over a major Brazilian retailer after two ICC disputes with a Brazilian joint-venture partner settled.  He also acts on a variety of M&A and construction disputes, notably, in the energy sector.
"André is exceptional in every sense and has been one of the key members of our team for a number of years. His promotion to the Counsel role was only natural, and he will continue to thrive in this new role. He brings an exceptional skillset in terms of legal mindset and knowledge of the law, case management, advocacy, and also practical business sense." She adds: "Late Professor Gaillard was André's mentor from his first year as an associate. He held André in the highest regard and was eager to see the happening of this well-deserved promotion."
Yas Banifatemi, founding partner of Gaillard Banifatemi Shelbaya Disputes
"André is unique.  Along the years, he has proven to be a very talented lawyer, with a great sense of adaptability, being equally at ease in both civil law and common law, fluent in many languages and with a deep knowledge of international arbitration and international law. His innate sense of strategy and extensive experience make him an invaluable member of our team. André's promotion is well deserved, and I am certain that he will contribute even more to Gaillard Banifatemi Shelbaya Disputes' success in this new role."
Coralie Darrigade, founding partner of Gaillard Banifatemi Shelbaya Disputes
---
Anders Junker-Nilsson, a Swedish national, has acted on several high-profile disputes that spans a broad range of sectors including pharmaceuticals, energy, construction and telecom. He previously spent several years specializing in litigation and arbitration in Sweden and has vast experience in enforcement and set-aside proceedings before Swedish courts. He recently helped Sonangol secure a landmark victory in an NAI arbitration in Amsterdam, enabling the repatriation of assets in the excess of EUR 650 million. Together with Banifatemi, Junker-Nilsson currently represents Huawei in the first known investment treaty arbitration against Sweden.
"Anders is a very talented lawyer and played a key role in Gaillard Banifatemi Shelbaya Disputes securing our landmark victory on corruption matters. I am pleased to hear of his promotion and look forward to seeing him thrive in this next phase of his career."
Mr. Gentil Bragança Pimenta, Sonangol's General Counsel
He is a "brilliant, versatile and result-oriented lawyer, with a keen eye for detail. He has consistently impressed those who have worked with him, team members and clients alike, regardless of industry or jurisdiction. He has great instincts and can anticipate key legal, factual and evidentiary issues, based on which he then develops a winning strategy." She adds: "Anders is unquestionably a future star of international arbitration."
Yas Banifatemi, founding partner of Gaillard Banifatemi Shelbaya Disputes