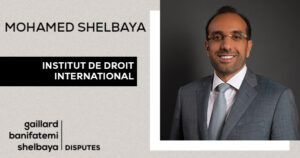 Mohamed Shelbaya delivered a presentation on "Unilateral Sanctions – Between Overriding Mandatory Rules and Impossibility" at the 150th anniversary of the Institut de droit international at the University of Angers.
He suggested that internationally lawful sanctions ought to be taken into account as lois de police when they are close to the normative centre of gravity of the legal relationship. He also argued that unlawful sanctions may still have a factual effect on private relationships, through concepts such as force majeure and hardship.
The session was chaired by Professor Catherine Kessedjian and moderated by Professor August Reinisch. The Institut de Droit International, a Nobel Prize Laureate, was founded in 1873 in order to foster and promote the progress of international law.